| | | |
| --- | --- | --- |
| | TRichView in Applications | |
---

Product Page: (discontinued)
Developer: TeraDB
License: Shareware
Interface: English.
---
TeraDB is the ultimate program to help you store, retrieve, and organize information, facts, data or virtually anything else you can dream up.
Think of it as an electronic filing cabinet, but instead of all that tedious presorting one would usually need to do when making an efficient database, TeraDB takes care of all of that for you.
Searching for information is fast and effective. Most of the searching you will be doing is just a point and a click away.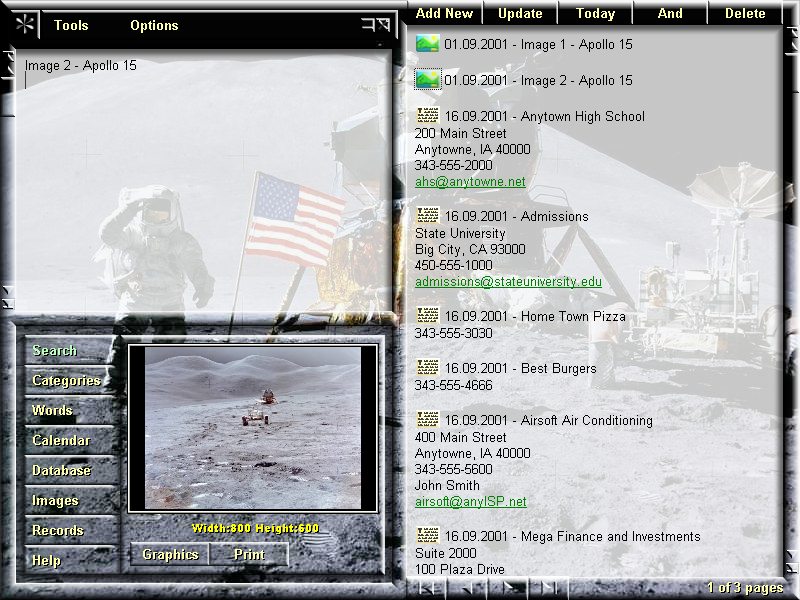 TeraDB Screenshot: RichView is used to represent a list of information snippets.
TeraDB
Easily and simply store thousands and thousands of snippets of information
Easily and very quickly recall one or more snippets of information
Make a wonderfully interesting interface that uses full color images with a 3-dimentional shaded relief that is fun to use
---
Disclaimer: This application is listed here because it uses our programming library. We are not the developers of the applications listed in this section of the web site (unless explicitly stated). Contact information of the developer of this application is at the beginning of this page. Please address all support or sales questions regarding this application to the developer.
We are trying to keep information in this section of our site up to date. But applications are evolving, and some information or graphics may be obsolete. Visit the application's site for the actual information.