| | | |
| --- | --- | --- |
| | TRichView in Applications | |
---

Product Page: www.alventis.com
Developer: Alventis Corporation
License: Shareware
Interface: English
---
Alventis is a Universal Information Manager that bridges the gap between a PIM and a DBMS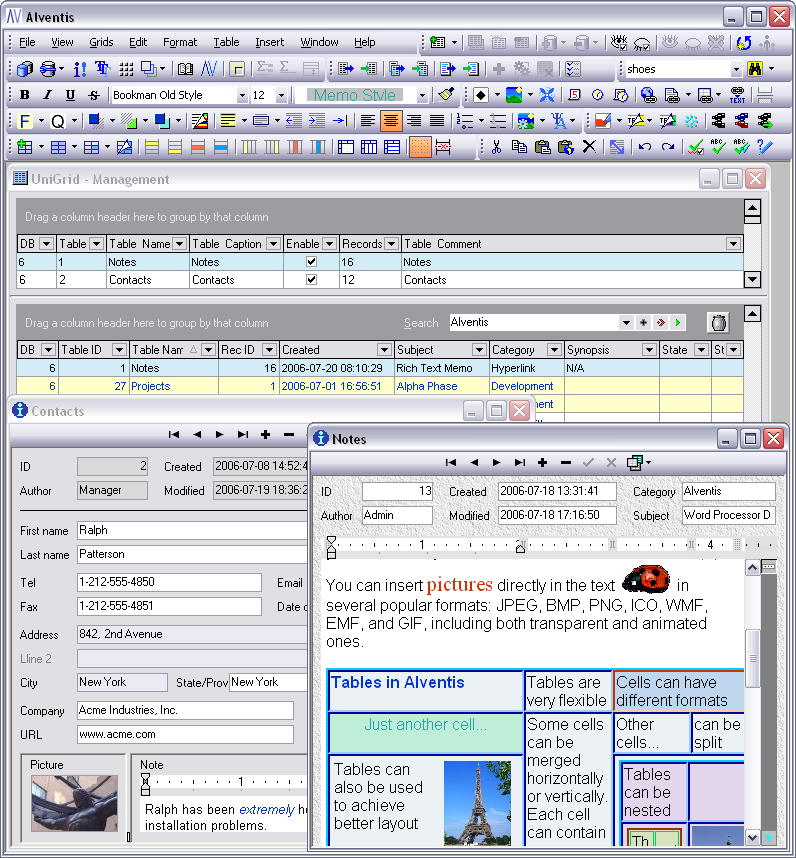 Alventis is a Universal Information Manager that can record all your valuable data: free-form rich text notes, contacts, tasks, inventory, budget, employee records, resumes, sales leads, real estate records, personal collections, and so on. The number of table formats and data-entry forms is unlimited. Full-text indexing ensures that your searches are lightning-fast. Banded reports are created with drag-and-drop ease.
The Professional Edition gives you the ability to create your own tables from scratch or modify existing ones. Create as many data-entry forms as you like quickly and easily - all without writing a single line of code!
The Enterprise Edition brings you the advantages of a robust client/server architecture, secure multi-user operation, and easy deployment. Infinitely more than a PIM, Alventis offers you features only found in industrial-strength DBMS solutions - for a fraction of the cost. Visit www.alventis.com for more information!
---
Michel Chichkov, Alventis Corporation: Alventis is using TDBRichViewEdit quite extensively and probably in some new and advanced ways, so it may serve as a nice showcase of your terrific components. Some unusual things we do are: we don't use RVActions, so our GUI is very different and more streamlined; we have a (possibly unique) MemoSearch feature (see our online manual topic ihfx_memosearch.htm); our Reports use RV very extensively, including non-modal print preview and quasi-WYSIWYG mode (ihfx_reports.htm); find in memo works somewhat differently from normal and it works across item boundaries (ihfx_find_and_replace.htm). There's probably more, but this is what I can think of right now."
---
Disclaimer: This application is listed here because it uses our programming library. We are not the developers of the applications listed in this section of the web site (unless explicitly stated). Contact information of the developer of this application is at the beginning of this page. Please address all support or sales questions regarding this application to the developer.
We are trying to keep information in this section of our site up to date. But applications are evolving, and some information or graphics may be obsolete. Visit the application's site for the actual information.